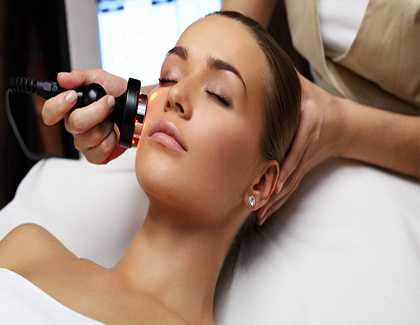 ANTI-AGEING AND SKIN REJUVENATION TREATMENTS
With the ticking of clock, our skin goes through a series of changes that gradually leads to appearance of fine lines, wrinkles, age spots and skin sagging. Your overall skin ageing is influenced by varying factors like your Genetic predisposition, stress, daily sun-exposure, your overall health, dietary habits , lifestyle, smoking, alcohol, use of other medications and your regular skin regimens.
Regular skin care goes a long way to leave your skin much more radiant and rejuvenated. It helps to decreased the overall impact that ageing causes on your skin. Though skin ageing cannot be stopped, it can definitely be delayed.
Treatment therapies are either preventive or corrective.
Chemical peeling
Chemical peeling is the oldest cosmetic treatment in practice. Cleopatra used sour milk (lactic acid) &French women used fermented wine (tartaric acid) to look fairer.
Chemical peeling is application of a solution/gel on the treatment area for a particular time period. It is an office procedure. The dermatologist decides on the type of peeling agent and their concentration to be used for a client depending on individual skin type. The skin is first cleansed . The peeling agent is then applied gently onto the lesion or on the full face till the 'end point' is achieved. During or shortly after the procedure, the patient might experience warmth or stinging sensation for a few minutes. The procedure can be repeated after 2- 3 weeks.
Types of Peels
Glycolic acid peel : it is an Alpha hydroxy peel derived from sugarcane extract. It is done to remove blemishes and superficial acne scars and also to give an even skin tone. It is also used as an anti aging peel since it stimulates collagen thus reduces and prevents fine lines & wrinkles.
Lactic acid peel : It is derived from fermented milk. Moisturizes skin as is the skin's own natural moisturizer. It is best suited for people who have a sensitive skin
Argininepeel : It is derived from Brown sugar and is used to treat dark circles
Kojic Acid peel : It is produced by mushrooms of family Aspergillus and Penicillium
Salicylic peel : It is a Beta hydroxy peel – salicylic acid peel done for acne ( whiteheads& blackheads).
Obagi blue peel : Trichloroacetic acid peel : should be done with extreme caution by a dermatologist.done to reduce pigmentation & fine lines.
Cosmelan peel : is a whitening peel. to be done by a professional
Yellow peel : vitamin A peel done for skin lightening and brightening.
Black peel : excellent for acne which doesn't respond to conventional medical treatments.
Nomelanpeel : done to treat increased pigmentation.
Advantages of peel :
Safe office procedure
Easy availability
Affordable
Compliments the drug therapy & brings about faster results.
Excellent cosmetic results
Minimal downtime.
Photo Facial
Photo facial, using Intense Pulsed Light (IPL) technology, is a skin brightening and tightening laser facial in which a special bandwidth of light focuses on melanin, collagen, and haemoglobin. The light generates a special type of heat that helps to decrease melanin; thereby, lightening pigmentation. and also stimulates collagen resulting in tightening and rejuvenating ageing skin. Another benefit achieved by this light is in shrinking dilated capillaries in the skin thereby reducing redness and improving conditions such as Rosacea.
After the treatment, mild redness of the skin might be observed, but it settles down after a couple of hours.
Use of a sunscreen lotion daily after the procedure is recommended.
BOTOX
Take years off your face in minutes !!! The easiest and quickest solution to wrinkles is BOTOX. BOTOX has been the most miraculous discovery in field of anti-ageing.It is a non-surgical, doctor-administered treatment that can temporarily smooth out moderate to severe forehead lines, frown lines, crows feet and a lined neck amongst other areas. It is an FDA approved treatment.
Botulinum Toxin is a natural, purified protein that relaxes wrinkle-causing muscles & creates a rejuvenated and more youthful appearance It involves injecting small amounts of Botox into the facial or neck muscles responsible for movement associated with wrinkling. The injection relaxes the muscle, thus reducing the associated lines and wrinkles.When injected by an expert dermatologist, BOTOX ensures the results are as natural looking as possible. The treatment involves no downtime and depending on the size of the area treated, results become visible in 3-7 days and results last for 4-6 months or longer.
Today, BOTOX is also used for facial enhancement such as jaw contouring to give the face a chiseled look and to remove the appearance of a gummy smile.
Indications for Botulinum Toxin?
To remove frown lines between the eyebrows,
Crows feet around the eyes,
horizontal forehead wrinkles,
Bunny Lines on the nose,
Down turned corners of the lips,
Neck bands (chicken legs) and horizontal lines,
Chin creasing, to reduce broad jaws,
to improve the facial contour,
To lift a sagging jowls.
Hyperhidrosis : to reduce excessive sweating on palms & underarms
for the treatment of migraine.
The results are seen within 3-4 days but the effect is best seen after 7-15days of injection. The effects gradually wear off in 5-6months.
Side Effects
No long term side-effects have been reported with BOTOX. Mild pain and tenderness are associated with injection site which are transient.
CAUTION: IT SHOULD BE ADMINISTERED BY QUALIFIED TRAINED DOCTORS ONLY.
MESOBOTOX
Intradermal injections of Botulinum Toxin is used to add a glow to the skin and helps in superficial crinkling and wrinkling. It is also used for fine wrinkling over dorsum of hands.
Fillers
Most of us have our own perception of beautiful look. There have been times when we have looked into the mirror and wished for a higher cheek bones or fuller lips or worried of hollowed and sunken eyes. Dermal fillers are Hyaluronic acid(HA) supplements and are by far the best and quickest way to restore lost volume to the face or to even rectify problems such as a drooping forehead, a disproportionate chin or ageing hands. Fillers are injections given into the deeper layers of skin and subcutaneous tissue to make one look youthful.
With age, our skin loses volume and hence begins to droop and sag, making you look tired and older. As we get older our bodies produce less Hyluronic acid(HA), which is a normal constituent of skin responsible for holding moisture in the skin. Aging robs our skin of their innate ability to hold moisture due to a drop in HA. The decrease in HA starts at around the age of 18-20 years. But after the age of 40 the effects become apparent. The skin starts to lose its elasticity and lines and wrinkles appear. HA also supports the formation and maintenance of collagen, an important connective tissue. Collagen degradation is believed to cause a decrease in skin tone and elasticity. Healthy, youthful skin comes from the inside but by replacing the components that naturally deplete with age; we can reverse the signs associated with aging. HA supplementation puts back in what is naturally lost to restore radiance and youth. Fillers are made of a fully degradable complex sugar molecule and have been used around the world for several years now with an outstanding safety record.
Dermal fillers are effective in smoothing the texture of your skin and removing lines as well as adding shape and contour to sunken areas of the face. Starting with the top of the face and working our way downwards to the neck and even the hands, dermal fillers can make a world of a difference to ones appearance by filling in, revolumising or plumping up the area as deemed necessary by the dermatologist. Everything from the eyes and eyebrows, the nasal bridge, nasal flares, nasolabial folds, the tear trough area, the cheeks, lips, neck and the hands can be treated and beautified with just a few painless pricks!
The procedure involves injecting HA filler which is available in pre-filled syringes into the skin through a thin needle. It is simple, safe, quick. Most patients return to normal activities almost immediately after treatment. The results are immediately visible and can last from 9 month to 2 years depending on the choice of fillers.The commonest fillers available are Juvederm, Juvederm Voluma, Restylane and Perlane.
Side Effects
Sometimes, a little bruising or swelling may be seen for a few hours but it is not permanent. It is safe and no long term side effects are noted.
LIQUID LIFT: Many people come to the clinic asking for Dermal Fillers for their Nasolabial Lines (the lines that run from the nose to the corners of the mouth) or Marionette Lines (the lines that run downwards from the corners of the mouth).
However, what many don't realise is that these ageing lines can occur as a result of thinning of skin and muscle, gravity, but also volume loss in the cheeks and mid face.
If you restore the volume loss in the cheeks, along the cheek bones and mid face, not only do you create more youthful lines but these Nasolabial Lines and Marionette Lines almost disappear before you have even started to fill them! Therefore you get much more for your money and effort. Some call this the Mid Face Lift or Liquid Lift.
You can even reduce the appearance of the jowl by filling that area.
NON ABLATIVE RADIO FREQUENCY(RF)
If you are unhappy with the appearance of your body or the fines lines and wrinkles on your face, this treatment is a comfortable, non-invasive solution for you to consider.
The unique RF technology when applied to the skin comfortably penetrates the tissues deep down into the dermal layers where collagen fibers exist. The dermis is heated uniformly via the radiofrequency energy without damaging the surface of skin. When collagen fibers are heated to the proper temperature, the fibers and connective tissues contract followed by gradual collagen tightening. The heating action promotes the growth of new collagen over time which firms and improves your body shape and laxity and thus overall appearance of your skin. Localized blood circulation also improves, and retained fluids drain to help minimize edema and erythema, improving contour.
For best results 4-6 treatment sessions may be required as directed by your doctor. This treatment also works best when combined with other therapies like PRP Skin Rejuvenation. The dynamic process of aging cannot be stopped. So, one does require a maintenance treatment after 2-3yrs.
Platelet Rich Plasma Skin Rejuvenation
PRP or Platelet rich plasma therapy is a relatively newer advancement in science of anti-ageing and facial Rejuvenation.
PRP is a concentration of platelets derived from your own blood (Autologous) that are used to trigger a healing process. Platelets are a source of growth hormones and cytokines that tell our body tissues to increase rebuilding of tissues to enhance healing. When PRP is injected into the damaged area, it stimulates a mild inflammatory response, which triggers the healing cascade. This leads to restored blood flow, new cell growth, and tissue regeneration. Because the blood is your own, there is no risk of rejection, infection as it is totally bio-compatible and bio-degradable.
PRP Skin rejuvenation treatment utilizes the potential of your own body to improve the overall texture and tone of your skin, naturally. It reduces wrinkles and blemishes such as acne scars and may be used as part of your health and beauty regimes to improve the overall condition of the skin, improving tone and texture. It is a natural approach to improving the condition of your skin, and you are using your own unique tissue growth factors and healing properties to revitalise the skin by improving blood supply and stimulating collagen formation, the results of which improves and increases over time with evidence suggesting that the results of PRP Skin Rejuvenation Therapy lasts longer than chemical treatments.
The procedure involves taking a sample of patients blood like taken for your routine blood investigations. The blood is placed in a centrifuge, which is a device that spins the blood. This helps to separate the blood cells from plasma, and allows concentration of the platelets. This process increases the concentration of platelets, which have the healing growth factors. The preparation takes about 15 minutes. The finished PRP product is then available for injection into the skin where skin rejuvenation and regeneration is required. Results are visible at eight weeks and improve gradually over ensuing months with improvement in texture and tone.
Indications for PRP for skin
Fine lines and wrinkles
Irregularities from acne and acne marks
Improve overall tone and texture of the skin thus giving your skin a youthful glow.
Crepe skin on hands and neck.
Under eyes dark circles and rejuvenation.
Stimulate hair growth on scalp
Side Effects
Since the procedure uses patients own blood, it is not associated with any harmful effects. Injection site pain, tenderness or bruising are temporary effects lasting for 12-48 hours.
Who should NOT have PRP treatment?
Heavy smokers, drug and alcohol users
Platelet Dysfunction Syndrome
Critical Thrombocytopenia
Hypofibrinogenaemia
Haemodynamic Instability
Sepsis
Acute and Chronic Infections
Chronic Liver Pathology
Anti Coagulation Therapy
Person with Skin Disease or Cancer
Severe Metabolic and Systemic Disorders.
This treatment works best when combined with BOTOX and Hyaluronic Acid Dermal Fillers.
Mesotherapy
Mesotherapy is a safe, natural alternative to invasive cosmetic procedures. The technique involves injecting of a small amount of a customized mixture of conventional pharmaceutical medications, vitamins, minerals, amino acids and enzymes into the middle layer of skin called as MesoDerm.This helps to nourish and rejuvenate the skin and promotes production of collagen and elastin in dermis. As our skin ages, the blood circulation decreases, and the resulting reduction of oxygen and nutrients hinders your body's ability to flush out toxins. This is what drives premature aging and causes the skin to develop a dull and tired appearance. Infusion of these vitamins into mesoderm improves blood circulation.
After treatment, patients commonly describe their skin as looking rested, radiant, glowing and firmer. Mesotherapy can be used a supplement, or an alternative, to many anti-aging regimens, including botox, laser resurfacing, peels, antioxidants, topical creams and facelifts.
Mesotherapy is also a highly effective rejuvenating treatment. The procedure can be used to tone and tighten sagging skin on the neck, legs, abdomen, arms and hands.
Results may be apparent after one treatment session while most patients require three to five (3 – 5) treatments to notice results.Like any other antiageing treatment, Mesotherapy also needs maintenance.
Indications
Cellulite,
Body fat reduction,
Body sculpturing,
Facial rejuvenation (mesolift)
Facial glow (mesoglow)
Eye fat pads
Dark circles
Hair regrowth
Loose sagging skin on arms , thighs , abdomen
Double chin
Thread Lifting
Threadlift is a novel procedure that helps to tighten and lift sagging skin and can be used on the face or body. Polydioxanone threads are inserted into the skin. They promote fibrosis and stimulate new collagen formation and this helps tighten the skin. This is a completely safe procedure done after anaesthetizing the skin with a topical cream to reduce the discomfort to a minimum. There is no fear of contamination as the threads are completely sterile and get dissolved over time.
Indications
Double chin with lax skin,
Jawline contouring & tightening,
lifting the sagging skin on the cheeks and around the mouth.
Post pregnancy tummy tightening.
Improving skin sagging around arms.
Copyright © 2015 Twachaa Skin Clinic
Website Designed & Developed By: