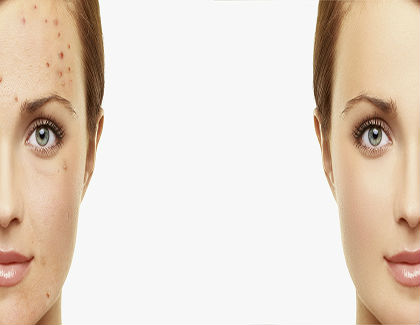 Post Acne scars is the most predictable after effect if acne are not treated on time or if you have the habit of picking and repeatedly touching acne. Scars can be of various shapes and types. It is important to know type of scars as this helps us choose the best treatment modality.
Scars can be Atrophic or Hypertrophic:
Atrophic Scars:
Craters: These are deep scars whose width is equal to or greater than their depth.
Pits: These are scars whose width is less than depth.
Ice pick scars: These are V shaped scars
Box scars: These are deep U shaped scars
Rolled scars: These are W shaped scars.
Hypertrophic Scars:
These are raised scars associated with excessive fibrous tissue formation.
Treatment Options
Unlike Acne, medications are not very effective in treatment of acne.Various Physical treatment modalities are required for substantial improvement.
Microdermabrasion
Microdermabrasion is done for extremely superficial scars. The superficial layer of the skin is abraded with crystals of inert aluminum oxide which are ejected with force in a controlled manner. It needs to be repeated once in 3 weeks for about 6-12 sessions.
Chemical Peels
Chemical peels are done for superficial scars, pigmented scars & soft scars. Depending on the skin type and its sensitivity, the type of peeling agent and its concentration to be used is decided by the physician. It is a quick and simple procedure that involves application of a peeling agent on patients face for a brief time. During the procedure, the patient might experience warmth or stinging sensation. The peel is repeated every fortnight for 6-8 sessions. The different type of peels used are : alpha hydroxy peel such as glycolic acid- derived from sugarcane; lactic acid derived from milk ; kojic acid derived from a Japanese mushroom; mandelic acid derived from apples ; salicylic acid , a beta hydroxyl acid derived from willow birch.
Dermaroller
It is a fairly newer treatment which usage of a small rolling instrument which has multiple small needles of .5- 2 mm depth. This causes collagen remodeling in the next 2-3 months. It should be repeated once in a month for 4-8 sessions. The procedure is performed after application of a topical anaesthesia (anaesthetic cream) to make it relatively painless.The results are appreciable and permanent. The downtime is just 1-2 days.
Dermastamp
This is an instrument, which has five-six small micro needles in it. It works on same principle as dermaroller and is preferred to treat localized depressed scars.
LASER
Fractionated erbium yag laser (PIXEL laser) or Fractionated Co2 laser : The newest form of treatment for acne scarring is called fractional laser therapy. This type of treatment works at a deeper level & wounds the skin using microscopic pulses of light. Because fractional laser therapy doesn't wound the top layer of tissue, healing time is shorter. It penetrates deep into the dermis, eliminating damaged cells and stimulating the growth of new collagen. Depending on the depth of the scars, some patients may require anywhere from 1 to 3 treatments for acne scar removal. It is best suited for treatment for deeper scars.It also improves the skin tone & texture.
PRP therapy
This is a relatively newer treatment modality that involves use of patients own blood. Special growth cells called "platelets" are separated from patients blood. These cells have an immense growth potential as they are responsible for release of various growth factors. These separated cells are activated and reinjected into scarred area. The released growth factors stimulate collagen formation. Apart from improving scars, theres an overall improvement in texture ang skin tightening.
Subcision
This involves subcutaneous sectioning of dermal adhesions with a sharp needle thereby lifting the scars. This technique is useful for very deep-pitted scars. ice pick scars, boxcar scars and rolled scars.
Fillers – these can be used to raise sunken scars to the level of surrounding skin. Hyaluronic acid is a very safe injectable material that is used to restore structure and volume to the skin. It is a good and safe option. The effects are usually temporary lasting 6- 12 months.
Radio surgery – In this procedure, radio waves are used in ablative mode, to ablate the unwanted layers of the skin and flatten out the edges of scars and to promote collagen remodeling thereby filling up deep irregular scars.
Steroid injections – Intralesional Steroid Injections like Triamcinolone Acetonide 10mg-40mg may be used for raised keloidal and hypertrophic scars. These injections help to soften thick stubborn fibrous tissue.
Surgical methods : For extremely deep or resistant scars, one may have to go for surgeries such as punch excision & grafting, dermabrasion or laser ablation. However, these procedures involve a lot of downtime. Secondly, one has to be extremely careful after dermabrasion or laser ablation since chances of post treatment pigmentation are very high if you are exposed to sunlight for upto 2 months post surgery.
Copyright © 2015 Twachaa Skin Clinic
Website Designed & Developed By: