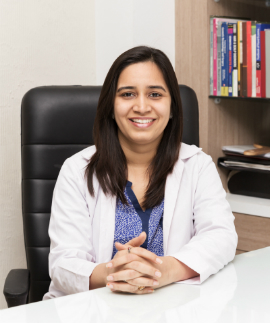 She has completed her MBBS and MD in Dermatology from the premier institute of BJ Medical College, Ahmedabad. As a student she has been popular amongst her seniors and Professors for her sincerity and dedication towards her work. She has been awarded the Galderma PG Grant for her outstanding participation in Dermacon 2009.
She has been trained in Advanced Cosmetology, LASERs and Dermatosurgeries – Hair Transplant,Facelift and vitiligo surgeries.
She has been associated with KAYA Skin Clinic as a Senior consultant.
Being a Permanent member of Indian Association of Dermatologists and venerologists (IADVL) and CSA she regularly attends scientific meets and conferences to keep her clinical skills updated.
She has also presented many scientific papers and posters in State and National conferences and received awards for the same.
She has following certifications to her credit:
Alopecia and its management by American Academy of Dermatologists.
Face lift Filament technique- Non Surgical Facelifts.
FUE(Follicular Unit Extraction) in Androgenetic Alopecia.
Derma-Fillers (Juvederm) training Programme by Dr Raspaldo from Allergan Academy, France.
Kaya Skin Clinic's certification course of Cosmetic Dermatology.
Copyright © 2015 Twachaa Skin Clinic
Website Designed & Developed By: